WINTER GARDENS, CONSERVATORIES, ROOFING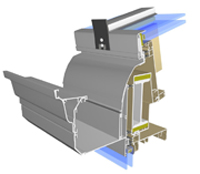 SYSTEM FEATURES
Ideal for thermally broken gable and half gable roofs. 150 mm ordinary or renewed rafters. 3.6 m wide glass or 4.4 m wide polycarbonate units between rafters. Eaves can be reinforced with typical steel profiles which allows for large vertical sliding and folding structures.
APPLICATION
To construct winter garden roofs of various shapes
Find out more about the system.