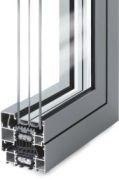 SYSTEM FEATURES:
A modern 90 mm three-chamber system designed for constructing external doors and windows. The plate made of innovative 45 mm materials and special core ensure excellent thermal insulation U-value from 0.6 W/m2K. One of the advantages of the STAR system is high mechanical resistance of the profiles which allows us to create sizeable and heavy structures. The shapes of the profiles are designed for various types of hardware, including hidden hinges. The structure can be made without visible weep holes. A wide range of glazing allows the use of all types of two-chamber units. The STAR system may also be used as the base for panel doors in various configurations. This system will satisfy the most demanding users.
APPLICATION
Recommended for energy-saving structures
Tilt-turn windows, tilt windows, turn windows, tilt & slide windows
Open-in and open-out doors, single and double sash doors with fanlights and sidelights
Panel doors
Find out more about the system.