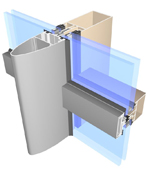 SYSTEM FEATURES
MC – WALL is a light-weight glass wall system made of joined mullions and transoms. A wide variety of profiles offers flexibility in designing walls, roofs, fanlights, sidelights and other structures. The shape of the profiles forms aesthetic as well as durable structures. A wide range of glazing allows for sizable glass panes and triple glazing. The MC – WALL system has the possibility of fitting it in with various doors and windows, including open out tilt windows as well as skylights and roof windows. Various decorative slats can make the exterior look unique.
APPLICATION
Commercial and public buildings
Residential buildings (outsize glazing, roofing)
Skylights, spatial structuresFind out more about the system.