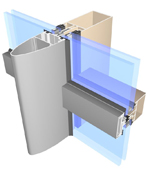 SYSTEM FEATURES:
A fire protection curtain wall whose exterior looks like a mullion-transom curtain wall. The connection between the two is invisible. The effective Aliplast fire protection does not affect the look of the wall. Aliplast solutions offer maximum safety as well as freedom for designers.
Visible width of mullions and transoms – 55 mm
Structure based on 55 mm aluminium mullion-transom system
Mullions and transoms equipped with special fire-proof fillers to reach desired fire protection
Aluminium profiles filled with fire-proof filling
APPLICATION
The mullion-transom system wall is designed for constructing lightweight EI60 fire protection curtain walls.
Find out more about the system.