FOLDING, CONCERTINA DOORS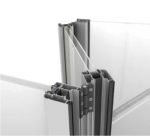 SYSTEM FEATURES:
This concertina door system with a thermal break is a modern structure from ALIPLAST. Its design is based on experience and clients' opinions. The frame depth is 74,5 mm, panels up to 50 mm. There is a wide range of solutions. 2 – 8 sashes. The folded sashes may be stored outside or inside a room. There are three threshold solutions which satisfy all our clients. The sashes are connected will reliable hardware. One of the most important advantages of the PANORAMA system is its high mechanically resistant profiles which bear the weight of sizeable and heavy sashes.
APPLICATION
Commercial and public buildings: restaurants, hotels, shops, pubs
Residential buildings: balconies, terraces, winter gardens
Wherever floor area needs extendingFind out more about the system.