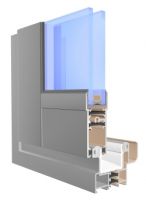 SYSTEM FEATURES
A thermally insulated sliding door system. A three-chamber frame profile, a one-chamber sash (outer and inner parts are connected with a thermal plate). There are two kinds of the frames available: with an extruded track or a separate profile where bottom rollers run. There are vertical sash profiles together with profiled sash-long handles. Panels are inserted during sash fixing, in C-shaped sash grooves on a gasket surrounding the panel. The possible panel depths are 6 – 9 mm and 20 – 24 mm. Sash corners are screwed. Frames are screwed or folded. Thanks to its properties, SIDE PLUS is very popular in western and southern Europe.
APPLICATION
Two to six-sash sliding doors
Find out more about the system.