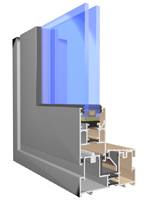 SYSTEM FEATURES:
A sliding door system without thermal insulation. The frames are 51 or 79 mm deep and sashes 18 or 21 mm deep. The double or triple track system with 2 – 6 sashes. Panels 1 – 12 mm. No thermal insulation. Compatible with other Aliplast systems.
APPLICATION
The system is designed for unheated exteriors such as balconies, terraces, loggias or internal sliding systems.
Find out more about the system.