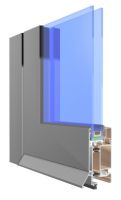 SYSTEM FEATURES:
A thermally insulated door – window system with triple glazed windows or quadruple glazed doors. Apart from traditional turn, tilt and turn & tilt windows, open-out tilt & turn windows can be designed with special hardware. The system is very popular in the UK. The frames and door and window sashes are 51 mm deep.
APPLICATION:
Panoramic windows
Tilt-turn windows, tilt windows, turn windows
open-out tilt & turn windows
Find out more about the system.