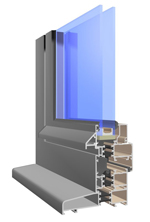 SYSTEM FEATURES:
A three-chamber system with 51 mm profiles designed for constructing external doors, windows and various panoramic windows. The profiles can hold insulated glass units up to 37 mm. The TRILINE system is compatible with other ALIPLAST systems. The door profiles have a specially shaped groove for clamp hinges.
APPLICATION
Double glazed panoramic windows
Tilt-turn windows, tilt windows, turn windows, tilt & slide windows
Open-in and open-out doors, single and double sash doors with fanlights and sidelights
Automatic sliding doors
Find out more about the system.